I am a strong believer in the power of building understanding and trusting relationships with my students. It starts on the very first day of school and how well we do or do not build these strong relationships is one of the greatest factors in the level of success we are able to achieve in our classes throughout the year. When we learn about our students' interests, backgrounds and personal feelings we can use that information to understand them and their individual needs. We are better at helping them to reach their potential and we are able to provide meaningful rewards for our students when they accomplish goals that they are working toward. Not only that, when we see a student that needs some encouragement, we know what works for that child. The pages in this Welcome Back to School bundle are filled with activities and questions that are designed to provide the teacher with specific information that I have found most helpful to gather on the first days of school.
I have tried many ice breaker games over the years and still have my list of favorites. I love active games like Human Knot and Four Corners that get kids up moving and interacting with one another. Once we have played a couple of games I like to have the students take a seat and fill out a paper that lets me know all about what makes them tick. This page becomes a wealth of information that I use over and over again throughout the year. The first page in this bundle is where I learn about student birthdays, family structure, favorites from color to food preferences to activities. It even provides students with a space for students to write down some things that they would like their teacher to know about them.  Once they are finished talking about themselves personally, students fill out a page that lets me know how they feel about school.
 Page two in the bundle includes sections for each of the core subjects and even one for behavior! For each subject students list what they feel the best about, what is most difficult, and set a goal for the new school year. They also get to talk about what they want to be when they grow up and why.
Another thing that I like to do with my students on day one is go over our classroom procedures.  Years ago when I was assigned a reading Harry Wong's First Days of School, it just clicked with me and I took his advice to heart. Because of what I learned from Mr. Wong, I do not have a list of classroom rules. Instead I develop procedures for every action that I can think of in class. Procedures, procedures,
procedures. Yep. That's me! Since I initially designed these forms for myself, I have listed my own procedures in this packet, but since you may or may not share the teaching of these same procedures, I have also included a blank page for you to include your own classroom procedures. Students write down all of your classroom procedures here and keep the document in their notebooks or planners for handy reference. When students do not follow a procedure in class you can easily direct them to review the procedures that they are struggling with.
The next two pages of this bundle are all about helping your students get to know each other and their school. First we have a classic BINGO style game that gets kids interacting with everyone in the class. Then we
have a "Get to Know Your School" page that is designed to complete as the teacher takes students on a tour of the school. I designed this page for my fifth graders because it was their first year to move from small elementary schools to a consolidated middle school. It can be a very scary move for many students, who have gone to the same small school since kindergarten! But even if your students are not consolidating into a large school for the first time, most of us have at least a few students in our classes who have recently moved to the community and are new to our school.  I have had many students find comfort in this tour, and I am grateful for that. 🙂
I have also included a full page that is lined for whatever writing assignment you might like to have students complete, as well as a blank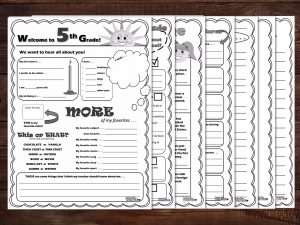 border page for students to use to "free draw" when they are finished. I have learned a lot about the families of my students by having them describe their favorite holiday experience. You would be surprised about what you can find out with this assignment! I also like to see what students draw on this paper. It gives me insight to their artistic abilities and their tastes. I actually use their sketches to guide me as I teach them how to draw in science.
** All pages are provided in both color and black and white for easier copying. 
Each year I create a folder for each student that I use to keep all important information that I will need for students, such as locker number/combination, passwords, bus information, medical information, etc. I place most of the pages from this bundle in this student folder and use it regularly during the school year. The only pages that I have students keep are the "Procedures" page and the "Getting to Know Your School" page. We revisit and reflect on the goals page when we return from our Christmas break, and once again at the end of the school year. Finally, on the last day of school we have fun looking through the folder and seeing how we have changed and grown during the school year.  It is a great activity!