Jus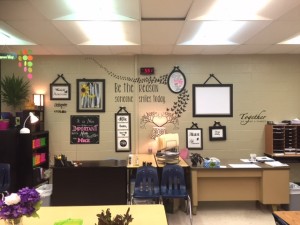 t like in a regular classroom setting, in a Collaborative Co-teaching class each group of kids comes to us with its own personality and its own set of challenges as well as strengths. There are so many factors that determine what your group's personality will be that it is impossible to determine the collective and individual needs of your students until you spend time with them, getting to know them in your classroom space. The classroom that you share becomes your home together for nearly a year and what you do in that space not only affects the development of your children, but also your own development as a professional educator. One of the best features about working in a Collaborative Co-teaching setting is that you get to embark on this adventure as a member of a team rather than flying solo. Just as the old adage "Two heads are better than one!" proclaims, collaboration is the way to go for this teacher!
This is the second year for two of our three collaborative team members to work together, which has proven to be valuable as we make decisions this year. We can recall our experiences from our previous year as we analyze what we see in the classroom now. We know of strategies that we have tried with our students in the past and while our situation this year is remarkably different, we can still pull out we have learned like tools from our bag of teacher tricks. However, sometimes we find ourselves facing the current and students as if we still have the same situation we had last year. It happens to many of us no matter where we work, it is natural to build upon what we are familiar with, and that's okay. It's a great place to start! But just like with anything else in life, we need to live in the moment and appreciate the full experience of what we are doing and who we are interacting with today, because no two classes and no two school years are exactly alike.
When we first formed our collaborative team we had two fairly small classrooms to use with a total of forty-seven students. Our administrator wanted to see all of our student desks in one room, leaving the second room open for a gathering space. We did it . . . but boy was it tight! However, our students were well behaved and while we were in close quarters we made it work. It was a great experience, and putting everyone together we were able to accomplish more small group work as well as individual student conferencing. Finding ways to increase individualized attention for students, increasing knowledge base by drawing on the skills of multiple teachers at once during lessons, and providing a platform of increased flexibility in lessons were remarkable benefits of teaching our students together. So much so, that we decided to continue with our collaborative teaching concept for our next school year. We welcomed a new team member for our second year together and we fast became close colleagues and friends!
This year brought new students, new school policies, and new challenges. As we got our class lists this year, we discovered that our new class would be much larger. This year rather than having forty-seven students we would have fifty-three. That meant adding three more double student desks! It took a lot of work, and we reversed classrooms, putting all of the desks in the opposite room this year, gaining us a few more precious feet. Again, we did it but this year was a bit more crowded than just tight. That was challenge number one. Number two was an increase in the number of students we had with IEPs. This was simply a challenge because of our larger class size since we did not want our students to miss needed attention. Our final big new challenge was that we were assigned a large number of students with documented behavior problems. In fact, when our principal first noticed the list she said this must be a mistake, we could not have both the high IEP numbers and the behavior students as well, insisting that the student list be changed. When the change didn't happen we moved forward with our year making the best of our situation. So we worked together, making adjustments along the way, and survived the first semester, but not without struggles! Now as we reflect on what we have done thus far we are certain that we have done our best for our students in our current situation but having all of our student desks in one room is simply too crowded, making it difficult to move through and among the students. At this point as we enter our Christmas break we have taken the time to weigh the pros and cons of our setup, and asked ourselves how can we do more for our students? There can be only one answer, we need to separate the students into two groups, utilizing both rooms for student desks. The true difficulty in this task is not the physical move, even though it is like setting up for the beginning of a school year all over again! The true challenge is deciding how to regroup without losing the benefits of working and teaching together collaboratively. But knowing that it is what is best for our kids, we are up to the challenge!